IMPORTANT INFORMATION
Somerville Road will be car-free from September 2020
Many schools experience traffic related issues at the start and end of the school day. Car Free School Streets aims to tackle congestion, poor air quality and road safety concerns, by restricting motor traffic for a short period of time at pick up and drop off times.
As part of our work to encourage healthier, greener and safer travel to school, we are pleased that Somerville Primary School will be taking part in the next phase of this scheme.
From 28 September 2020 the following restrictions will be in place:
WHERE: Somerville Road (cul de sac section from Charles Road to school) WHEN: Monday to Friday, 8:15-9:15 am and 2:45-3:45 pm
During these times, most vehicles will not be able to drive into the road(s) covered by this restriction.
Signage will be in place at the entrance(s) to the restricted zone. Please download the following letter for more details:
For all the latest information on the impact of Coronavirus at Somerville, please visit our designated page:
Somerville Shoebox Appeal
This year, Somerville Primary School will be taking part in a Christmas shoebox appeal with a charity called Migrant Help. We are collecting gifts that will be given to asylum seekers in the West Midlands. The shoeboxes can be made for children or adults (see flyer below) and would really make a difference over the festive period. You have until Wednesday 9th December to put your box together.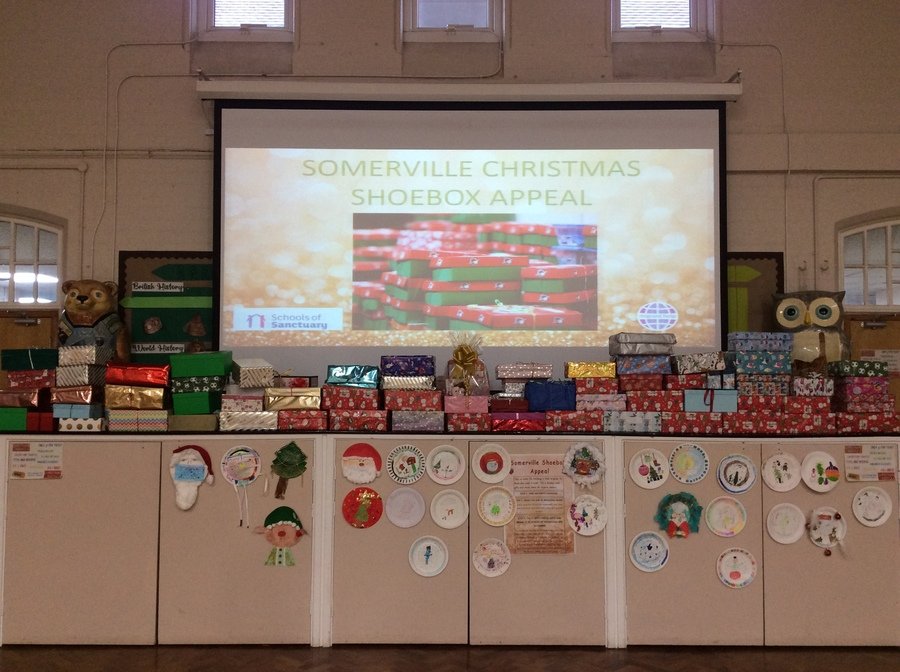 Welcome Message
Somerville Primary School is a community school, which proudly serves the local community. We have 790 pupils from Nursery to Year 6. The vast majority of our pupils are Muslim and we hold a determination to hold Islamic acts of worship on a daily basis. The pupils come from many different cultural and ethnic backgrounds, which help to make Somerville School a vibrant and exciting place to learn. We provide a safe and secure environment for all, with up to date technological equipment to ensure that our children and staff are ICT literate.
At Somerville we feel that it is important to develop the whole child and therefore provide children with a range of learning experiences from educational visits, residentials, visitors in school as well as exciting lessons and inspirational workshops. We feel that the important link between home and school should be strengthened and therefore invite parents into school at every opportunity from transition workshops to attendance parties.
We provide a broad and balanced curriculum, which is language enriched to ensure that our children reach their full potential. If you would like any further information please do not hesitate to contact myself or any other member of staff.
Mr Izhar Khan
(Headteacher)